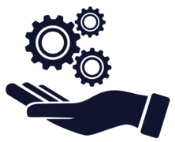 Legal Services
We help companies seek relevant legal support, whether it is for patents, writing contracts or dispute resolution.
Partnerships
Mainly consisting of Marketing/ PR campaign advice, Partnership Projects & Business Mentorships.
Support
Specialised and unique Business development support, Branding support & Marketing support for your company.
Having worked with many startups and companies, we fully understand the apprehension and uncertainties that come with opening up new markets. The KICC difference is a tried and tested methodology to ensure that your company's entrance is seamless and successful.
About KICC
Korea IT Cooperation Center (KICC) in Singapore
Established in July 11, 2014, KICC serves as a National IT Industry Promotion Agency of Korea (NIPA)'s strategic hub for boosting more vigorous business opportunities between Korea and ASEAN countries in the ICT industry. NIPA is a non-profit government agency affiliated to the Ministry of Science and ICT to the Republic of Korea, which is responsible for providing support to IT enterprises and professionals. NIPA leads national economic development and knowledge-based economic society by promoting competitiveness of overall industries through IT usage and advancing IT industries. Its key roles include:
•  Policy research and development support for the IT industry
•  Help establish the foundation of the IT industry and cultivate its human resources
•  Vitalize the distribution market for the development of the IT industry and support marketing
•  Promote businesses related to the convergence and utilization of IT technology
•  Support international exchange, cooperation, and overseas expansion related to the IT industry
KICC is located at AXA Tower
One of the prominent buildings in the business district in Tanjong Pagar. There are 9 fully furnished 2-3 pax offices, 1 fully equipped conference room, 1 meeting room and a rest area. KICC provides offices exclusively for Korean ICT related companies.
KICC offers unmatched comprehensive support services to all on-site and also off-site Korean ICT companies for their successful establishment in Singapore and ASEAN.
The KICC Platform
Be empowered through a holistic 360-degree platform that encompasses all the key ingredients for your business to successfully penetrate and grow.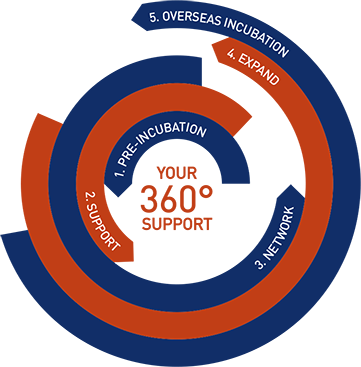 The 5 Steps KICC Difference


1. Pre-Incubation Validate
Validate with us your concept to ensure a successful take-off. Our expertise in the Singapore and Asean markets will help you iron out any pitfalls.
2. Support
Leverage on our incubation services like mentoring, subsidised office facilities, as well as overseas grant support to kick start your expansion plan.
3. Network
Enjoy free-targeted seminars and networking sessions as you learn about culture, marketing, research, legal and accounting in Asean's business environment.
4. Expand
Grow exponentially as we link you up with business opportunities and possible partners to take your business into more overseas markets!
5. Global Incubation
Gain greater access to the economies of various Asean markets through our experience, knowledge and network of local and overseas partners.
Singapore is a hub country of ASEAN. Being aware of this, Korea IT Cooperation Center (KICC) was launched in order to facilitate global business activities so that more companies can successfully enter the ASEAN market.
To serve as an ASEAN Global Business Base Camp for Korea's Creative ICT Companies, we'd like to devote ourselves to reinforcing the competitiveness of the ICT industry focusing on ASEAN Market and contribute to your growth through the business platform.
We'll do our best to lay the groundwork for the industrial technology promotion as well.
On behalf of KICC-Singapore staff, we promise to fully dedicate ourselves in sharing your dreams & visions and support your next step towards the global success.
Thank you,
Dr. Lee Choong Hyun
Regional Director of KICC
KICC Partnership Programmes
The KICC Partnership Programmes are designed and catered to needs of clients in fields such as marketing/ PR campaign advice, Partnership Projects & Business Mentorships.
Marketing/ PR Campaign Advice
Organise seminars, roadshows, regular networking events and other marketing efforts.
Partnership Projects
Participation within the coverage of both private and public sectors.
Business Mentorships
New business owners can come to us for guidance and advice on how to further grow/expand their company.