About KICC
Korea IT Cooperation Center (KICC) in Singapore
Established in July 11, 2014, KICC serves as a National IT Industry Promotion Agency of Korea (NIPA)'s strategic hub for boosting more vigorous business opportunities between Korea and ASEAN countries in the ICT industry. NIPA is a non-profit government agency affiliated to the Ministry of Science and ICT to the Republic of Korea, which is responsible for providing support to IT enterprises and professionals. NIPA leads national economic development and knowledge-based economic society by promoting competitiveness of overall industries through IT usage and advancing IT industries. Its key roles include:
• Policy research and development support for the IT industry/ IT 산업을위한 정책 연구 및 개발 지원
• Help establish the foundation of the IT industry and cultivate its human resources
• Vitalize the distribution market for the development of the IT industry and support marketing
• Promote businesses related to the convergence and utilization of IT technology
• Support international exchange, cooperation, and overseas expansion related to the IT industry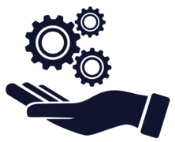 Legal Services
We help companies seek relevant legal support, whether it is for patents, writing contracts or dispute resolution.
Partnerships
Mainly consisting of Marketing/ PR campaign advice, Partnership Projects & Business Mentorships.
Support
Specialised and unique Business development support, Branding support & Marketing support for your company.
Singapore is a hub country of ASEAN. Being aware of this, Korea IT Cooperation Center (KICC) was launched in order to facilitate global business activities so that more companies can successfully enter the ASEAN market.
To serve as an ASEAN Global Business Base Camp for Korea's Creative ICT Companies, we'd like to devote ourselves to reinforcing the competitiveness of the ICT industry focusing on ASEAN Market and contribute to your growth through the business platform.
We'll do our best to lay the groundwork for the industrial technology promotion as well.
On behalf of KICC-Singapore staff, we promise to fully dedicate ourselves in sharing your dreams & visions and support your next step towards the global success.
Thank you,
Mr Sungwoo Shin
Regional Director of KICC
KICC Partnership Programmes
The KICC Partnership Programmes are designed and catered to needs of clients in fields such as marketing/ PR campaign advice, Partnership Projects & Business Mentorships.
Marketing/ PR Campaign Advice
Organise seminars, roadshows, regular networking events and other marketing efforts.
Partnership
Partnership program whereby local resellers, systems integrators or distributors are incentify to encourage them to recommend and sell Korean vendors' products and associated services.
Business Mentorship
New business owners can come to us for guidance and advice on how to further grow/expand their company.